living.boondockingmexico@yahoo.com

I could swear I have written this before but anyway, here goes ( I may have dreamed it). Pulled into Sabinas Hidalgo around 4 p.m. and drove to the main plaza.
Walked into the tourist office and asked if we could spend the night at one of the parks. We were lead by a woman "Vinka" who hooked us up with the mayor's assistant. He made some calls and before we knew it, Vinka was driving in front of us in an official car to show us how to get to La Turbina Park and where to stay. She even drove us by her house in case we preferred to stay in her enclosed yard.
The park is another jewel in Nuevo Leon. There are three parks in town, Ojo de Agua, La Turbina, El Charco del Lobo. La Turbina has lots of shade trees, picnic tables, grills and a wonderful swimming hole. As you can guess by the name, it is actually a hydro turbine for generating electricity but has a fantastic waterfall.
The police came by every hour during the night as they knew we were there and had a permit for staying the weekend. The park was empty after 8 p.m.
Sat outside at night and had a cold drink watching the sunset. This life is great, now I am getting a feeling of what it must be like to be a fulltimer.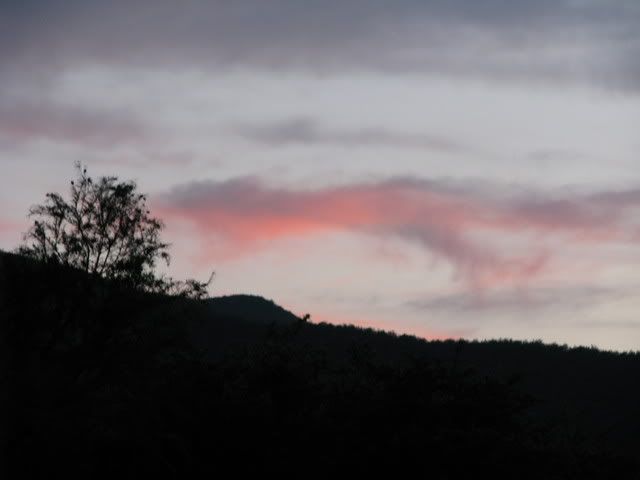 Today is Saturday and we dropped the trailer and came into town to run some errands. I got a great haircut for 20 pesos. From there we went for a car wash, grocery shopping at Bodega Aurrora, pick up a grilled chicken and I am here working at the internet cafe. The place across the street sells some mean lookin' tacos but I can resist the urge until tomorrow.
Why tomorrow? Dìa Libre! My free food day. I am making pasta with pesto tomorrow night. Mama Mìa!!!!
Feel free to send comments or an email. If you are interested in any of these places and want directions I will be more than happy to give them to you. A friend asked about big rigs and the places we have visited.
My two cents, if it is a two lane highway on the map it is doable. The small towns all have access for buses and the plazas in almost all cases are doable. Parking in many plazas is okay but always ask for permission first. Visiting the presidencia municipal is a real door opener and you will always find someone who speaks enough English to get you what you want.
As for the boondocking part, in this neck of the woods there is no other choice.
Now a quick word regarding living in Mexico. I have had the opportunity to talk to many people about the small towns and the fact that they seem abandoned. They are at a rate of about 60%. If I were a gringo wanting to live or even Winter in Mexico, I would find an old casa antigua in one of these small towns we have visited and buy the place, remodel it and spend a few months a year here. Why? The climate in Winter is great. The people are open and friendly. You would bring jobs, few and limited, but work for some of these people as well as help revive the town. I have asked about prices and they range from 10,000 dollars on up. It looks like this area could be a real haven for foreigners. Monterrey during this last week has always been within an hour's driving distance as well as the proximity to the border in terms of medical care etc. Just my two cents.